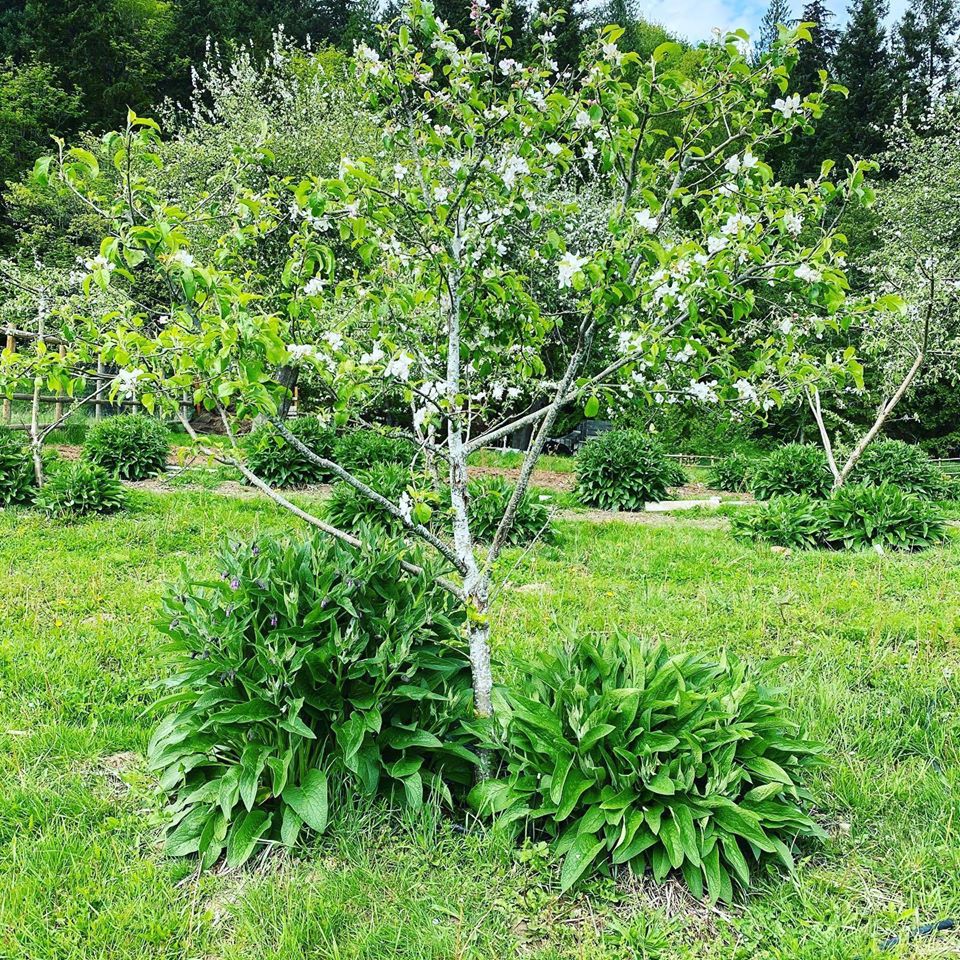 This is one of our heirloom apple trees with comfrey planted at the base. When we restored the apple orchard and budded the old trees to new root stock I wanted the ultimate companion plant and organic fertilizer. That is when I discovered the endless benefits of comfrey!
.
.
Comfrey offers the most bioreadily available organic fertilizer for our fruit trees 🌳 We plant one on either side of the trunk at the base of our apple 🍎 trees. It is a herb with a deep tap root that can break through deep into the soil and uptake minerals that other plants cannot reach.
.
.
It literally mines minerals deep in the soil and brings them upward to be made available for other plants around them. We planted bocking 14 which is a sterile hybrid so it does not self seed as comfrey is known to spread rapidly. It blooms beautiful purple flowers 4 times a season. The bees can't get enough and we can just weed eat it when the flowers are spent and it grows back within a couple weeks.
.
.
Any plant with roots, shoots or fruits will benefit from a weekly feed from comfrey tea which you can make by soaking the leaves in water. Leaves rot incredibly fast which means your plants get the benefits quickly.
.
.
Comfrey has been used for thousands of years as a medicinal herb as well as a fertility builder for the land. Bocking-14 comfrey is the most desirable cultivar for making a tea to fertilize your garden with an NPK ratio 1.8 / 0.5 /5.3. Comfrey is a dynamic accumulator of nutrients, most notably iron, silicon, nitrogen, potassium, calcium, magnesium and many trace minerals. You can also save money on animal feed! Comfrey is used worldwide as an animal fodder. Dried comfrey leaves contain 26% protein. Although some animals enjoy comfrey fresh, if you find your animals do not like fresh comfrey, offer them comfrey which has wilted for a day or dried completely. The little silicon "hairs" on the leaves sometimes bother animals, though the problem is solved by allowing the leaves to wilt first. Comfrey is the only plant which harvests vitamin B-12 from the soil!