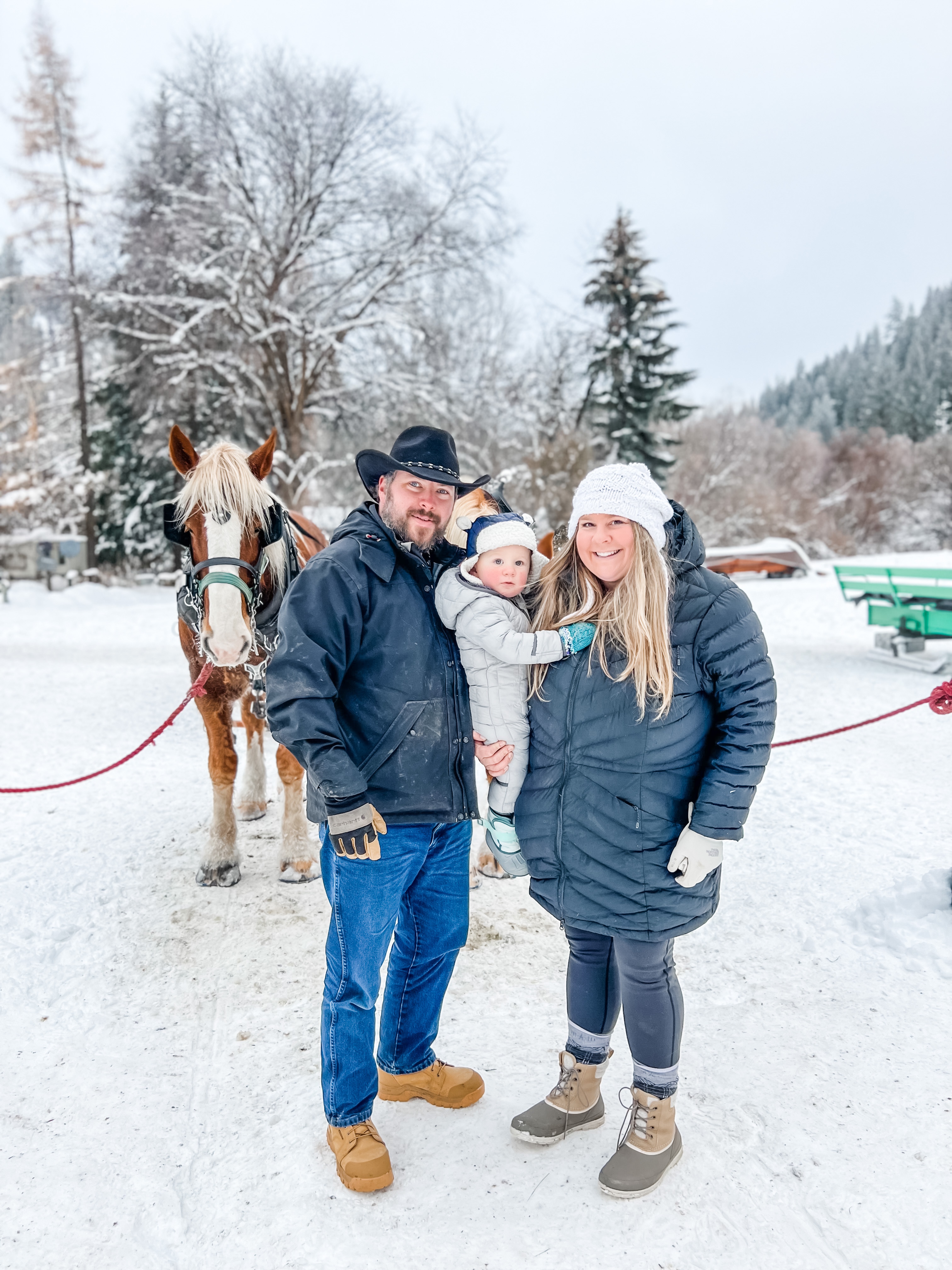 Wishing you health and happiness in 2023 from our family and farm to you and yours!
Time is one of our most precious commodities so thank you for keeping up with the Red Barn Farm and for so many of you that are such loyal customers. We have always strived to build a place for the community at our farm and we hope to do that better than ever this year! Last year was such a rollercoaster, packed with so many highs and lows in business and life, though I do like to reflect, at my core I am a future focused achiever so onward and upward. 
Our days last month were filled with keeping our animals fed, warm and happy! We were not expecting 2 snow storms and an ice storm but we know as farmers that Mother Nature always has a way of keeping us on our toes, even when we really needed ice skates. We did have a chance to sneak to Leavenworth for one night with friends and took Declan on his first sleigh ride! Below are some of our favorite photos from our winter wonderland.
We have been busy planning out fun events for each month so that you can have many opportunities to come visit the farm with your friends and family. Our calendar will be released next week as soon as I get a moment to finish updating our website. 
We are also very excited to officially open our new farm store in the farm house! In the store you can purchase our honey and garlic, cooking essentials including oils and vinegars, salt and pepper from San Juan Island Sea Salt and local fresh roasted coffee. We also have great gifts and local goods, such as, candles, soaps and bath and body care. We have gardening kits and tools for tried-and-true gardeners and new gardeners alike. Once we start harvesting this Spring we will have our farm store fridge stocked with veggies and flowers. We are raising 100 new baby chicks that hopefully will help keep our farm store fridge stocked with eggs by the middle of May. If you are on our waitlist for egg subscriptions these are your girls!
In addition to our monthly fun farm happenings we will be offering classes such as spring wreath making, soap making, flower arranging, kids gardening class, and many more to come. Also, our annual Easter Egg hunt will be extended for a second weekend this year!
Stay tuned for our calendar of farm events and for our lovingly curated Valentine's Gift Boxes for the special someone in your life. We appreciate your support so much more than you know!
Thank you,
Chelsea, John and The Red Barn Farm Team